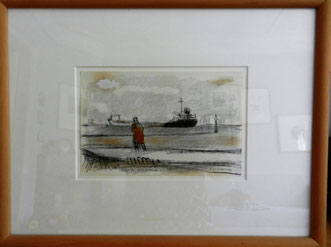 This small work by Jenny Dalenoord I have on my own wall.
It is one of my favorite paintings, not only because of its sentimental value (as a child, I sometimes went to Hoek van Holland to watch the ships, sitting on the back of my dad's bike), but it is also simply beautiful, in color and composition.
At first I knew Jenny Dalenoord (1918-2013) just as an illustrator. She was one of my examples.
And she became even more of a hero when I found she had also made beautiful drawings, paintings and prints. 
The icing on the cake is that she designed postage stamps too, which is one of my secret wishes to do one day.
---